20 IoT Business Ideas & Opportunities for Startups in 2023
February 24, 2023
13 minutes to read

The Internet of Things business opportunities includes the devices' connectivity and seamless data exchange. This technology is driving numerous industries today and is no longer limited to smart homes. The IoT can transform entire cities, factories, and infrastructure.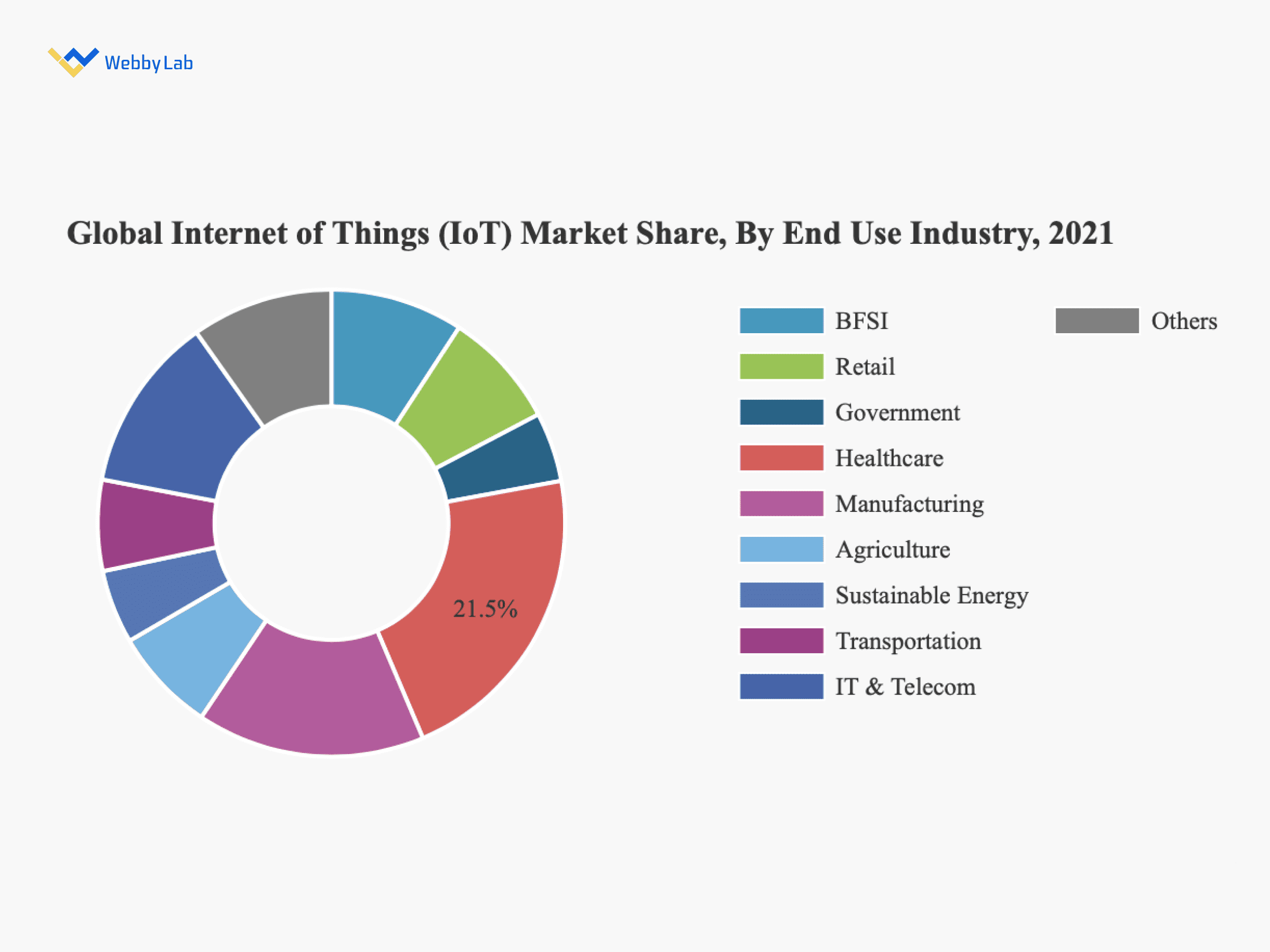 The global IoT market share by industry in 2021, Fortune Business Insights.
As you can see, the Internet of Things can be the next big thing in healthcare, manufacturing, energy, agriculture, and numerous other sectors. Its global market will reach $621 billion in 2030, tripling its size in just a decade.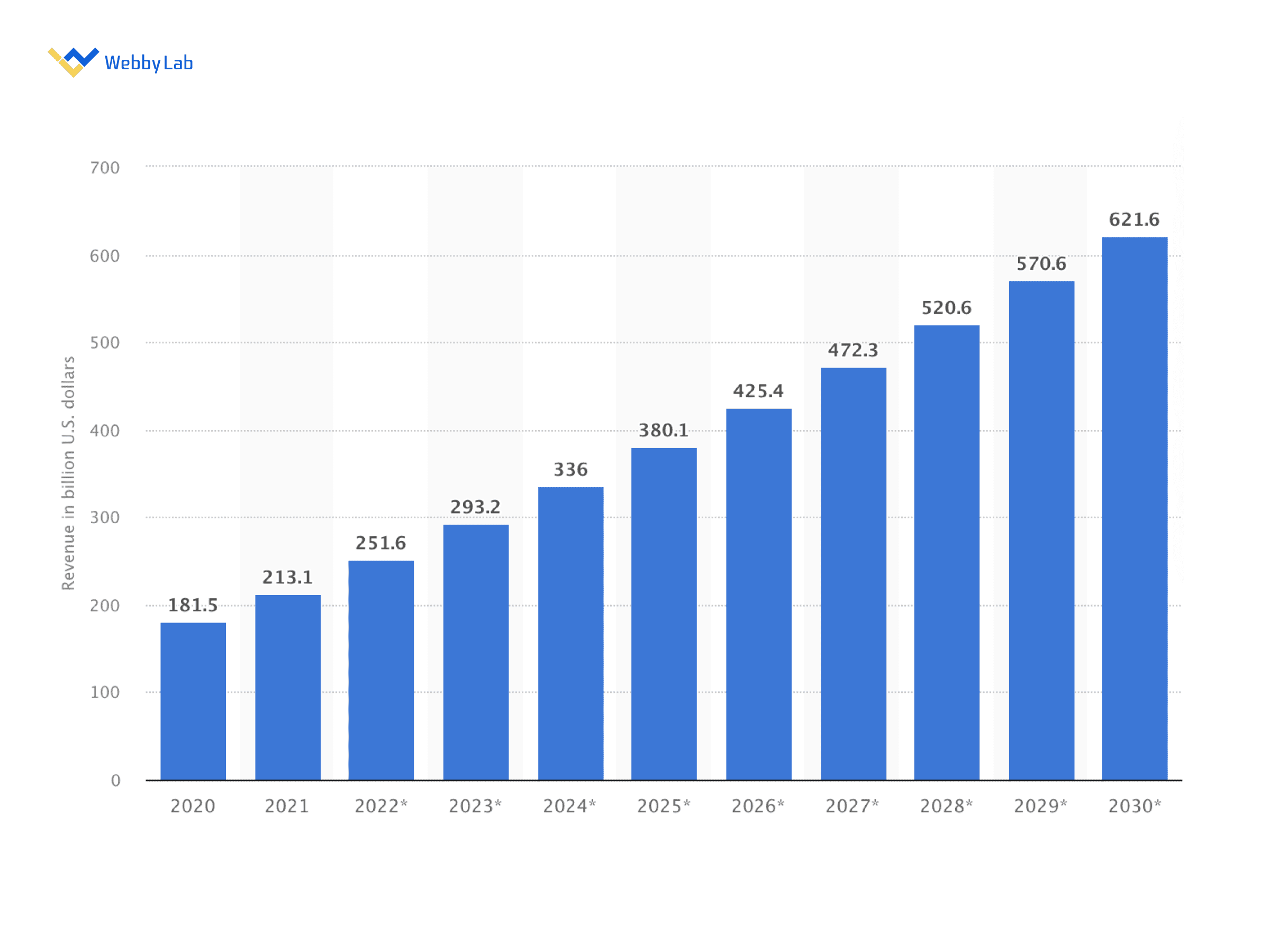 The IoT total annual revenue worldwide from 2020 to 2030, Statista.
Want to learn more about IoT business opportunities? Keep reading this WebbyLab post. We'll tell you about the benefits and prospects of the Internet of Things and share the top 20 IoT startup ideas for 2023.
In this article, WebbyLab will leverage its expertise in IoT solutions development, including our projects like the 2Smart Standalone automation platform, Propuskator access control and management system, smart greenhouse, and more. We'll help your business thrive, sharing practical insights on IoT adoption.
How Does the Internet of Things Impact Businesses?
Let's start with the most significant matter. Why should you consider using IoT in your business processes in the first place? Regardless of your industry, this innovation is promising and has found numerous applications. Here's how the Internet of Things affects businesses:
Efficient Remote Work
Remote work is a new norm, given the increased digital transformation across various sectors. If your company has adopted this operational approach, the Internet of Things business opportunities are immense. Your workers can seamlessly connect and track equipment using IoT apps.
Smooth Data Collection and Sharing
Collecting and transmitting large volumes of data has never been smoother with the Internet of Things. Smart sensors and devices gather information in real-time, allowing companies to make predictions, identify trends, mitigate risks, and make data-driven decisions.
Better Inventory Tracking and Management
The IoT innovations can automate inventory tracking and management in different sectors. These technologies are specifically helpful in logistics, transportation, eCommerce, and manufacturing industries.
Enhanced Productivity and Efficiency
The connectivity offered by the Internet of Things helps increase companies' productivity and efficiency. This technology allows businesses to keep data in one place and manage connected devices simply through a convenient user interface that doesn't require much manual work.
Increased
Product
Competitiveness
Electronics and machinery manufacturers can get a competitive advantage by implementing IoT in their devices. You can modernize almost any electrically powered asset, and the consumer will view it as a significant benefit. Here's how the WebbyLab team helped one of our clients:
Gaining a Competitive Edge with Heat Pump Enhancement
The client, a heat pump manufacturer, turned to our team to modernize their existing products, which weren't IoT devices. 
Heat pumps offered an interface attached to each pump, and its main inconvenience was the impossibility of changing the heating mode remotely. Hence, consumers had to do it manually directly in the technical room. Moreover, our client needed to ensure the secure collection and storage of telemetry data.
As a solution, our team revised the firmware on heat pump microcontrollers, adapting it to connect to the white labeled cloud. This allowed end users to use a mobile application for remote control and maintenance from anywhere with the Internet. Thanks to this solution, we were also able to provide the client with tools to gather and store telemetry. Consequently, our customer made his products more competitive with minimum expenses.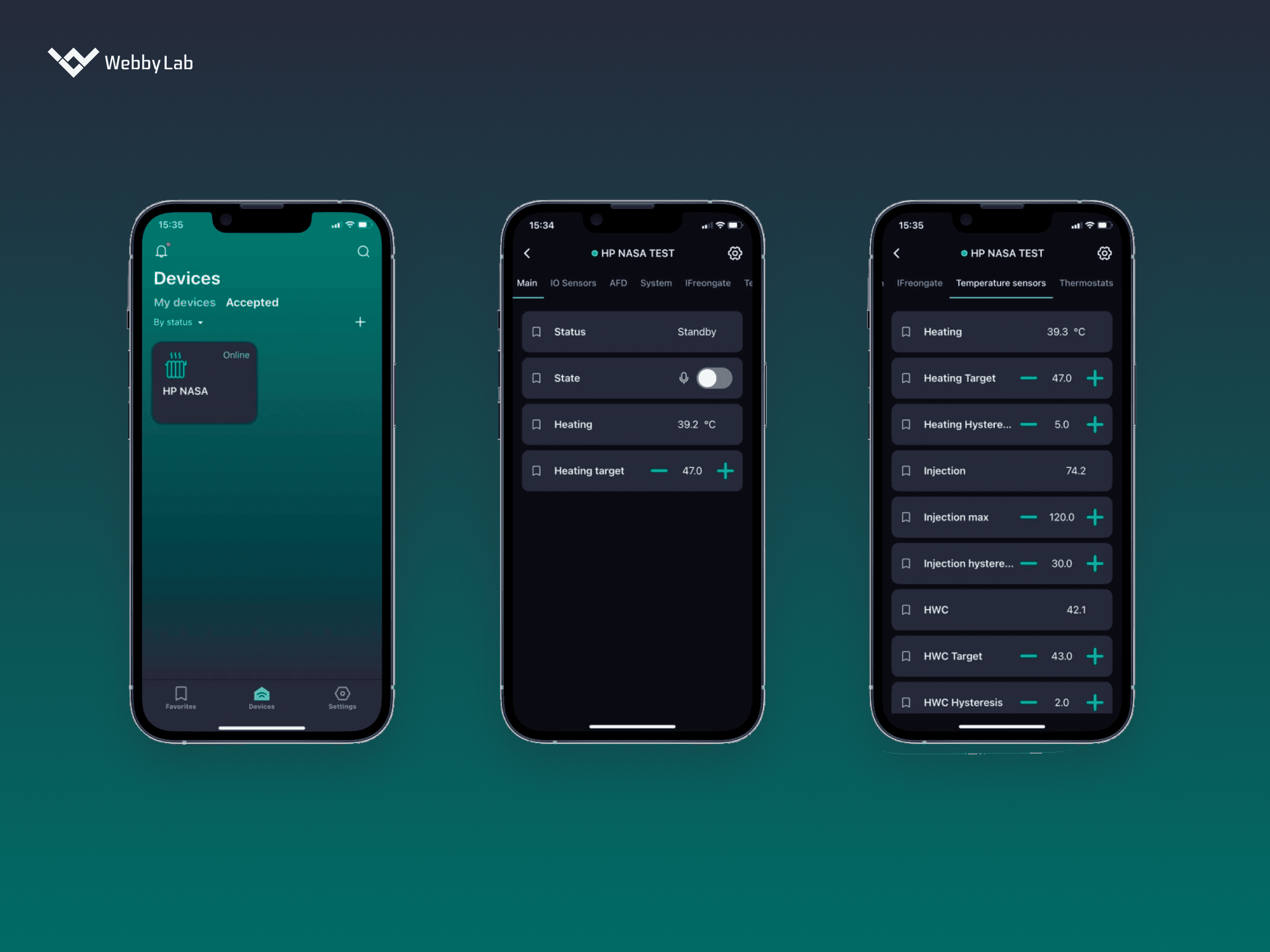 Consumer mobile app for remote heat pump management and maintenance.
IoT Technology Role in the
Future
of Businesses
What are the core business opportunities in IoT? Let's look at the innovative approaches this technological advancement offers.
Device-to-Device Communication
Connectivity is one of the Internet of Things' key features. The IoT enables data transfer between connected devices and the cloud. It applies to various industries, for example, medical wearable IoT devices interconnection or vehicle-to-vehicle communication in the transportation sector.
Real-Time Notifications from Connected Devices
Companies implementing IoT will receive notifications from connected devices about possible malfunctions or the current status of processes. For example, agricultural businesses can receive alerts on changes in water levels, weather conditions, etc.
Real-Time Data Analysis
Considering the significant number of IoT sensors available, efficient real-time data collection and analysis is the future. Companies can measure and study anything, from air temperature to pump pressure — all of this remotely.
Information Exchange
Connected devices exchange information not only among themselves. If necessary, they can be connected to the cloud or other services and carry out data transfer automatically. It's like the Apple Watch calls the emergency in case of a sudden fall or collision.
20
Best
IoT Business Ideas
and Opportunities
As you've learned what the future might hold for companies adopting the Internet of Things, it's time to move on to the potential use cases. Here are the best 20 IoT business ideas in 2023.
1. IoT Technology in Agriculture
Using the Internet of Things in agriculture is a decent idea. Businesses can automate various procedures like irrigation, fertilization, and crop management. They can collect weather and plant health data for more efficient processes.
Smart Greenhouse Automation by WebbyLab
WebbyLab contributed to the agricultural industry by delivering a smart greenhouse solution based on the 2Smart Standalone automation platform. Our project uses various sensors to track the following indicators:
Air temperature and humidity

Soil temperature and humidity

Air's concentration of CO

2

Lighting status and duration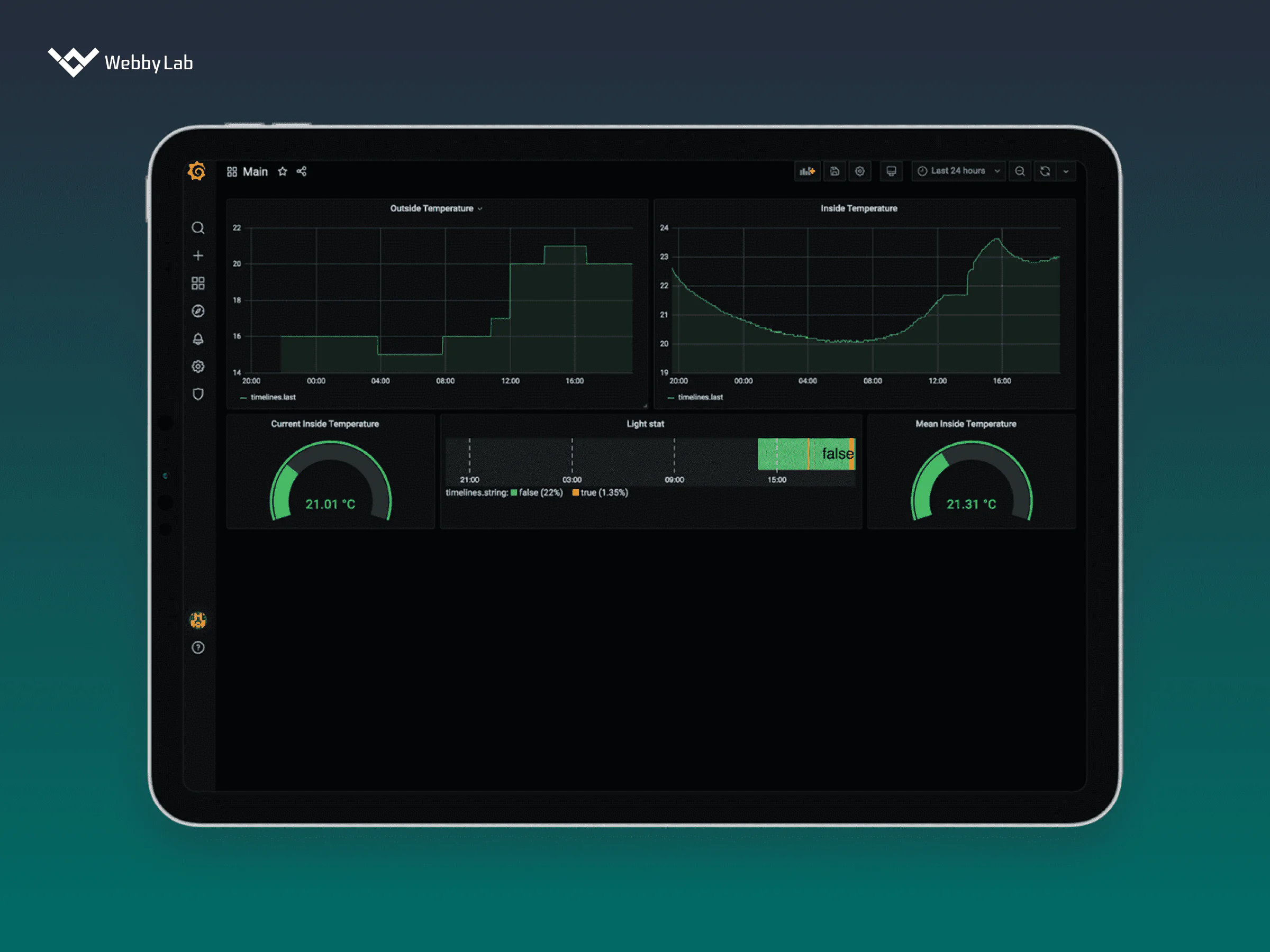 Tracking the greenhouse parameters via the dashboard.
2Smart Standalone enables dividing the greenhouse into several zones with their specific microclimates and parameters. Users can adjust heating, ventilation, watering, lighting, and fertilizer delivery remotely through a convenient admin panel or a mobile app.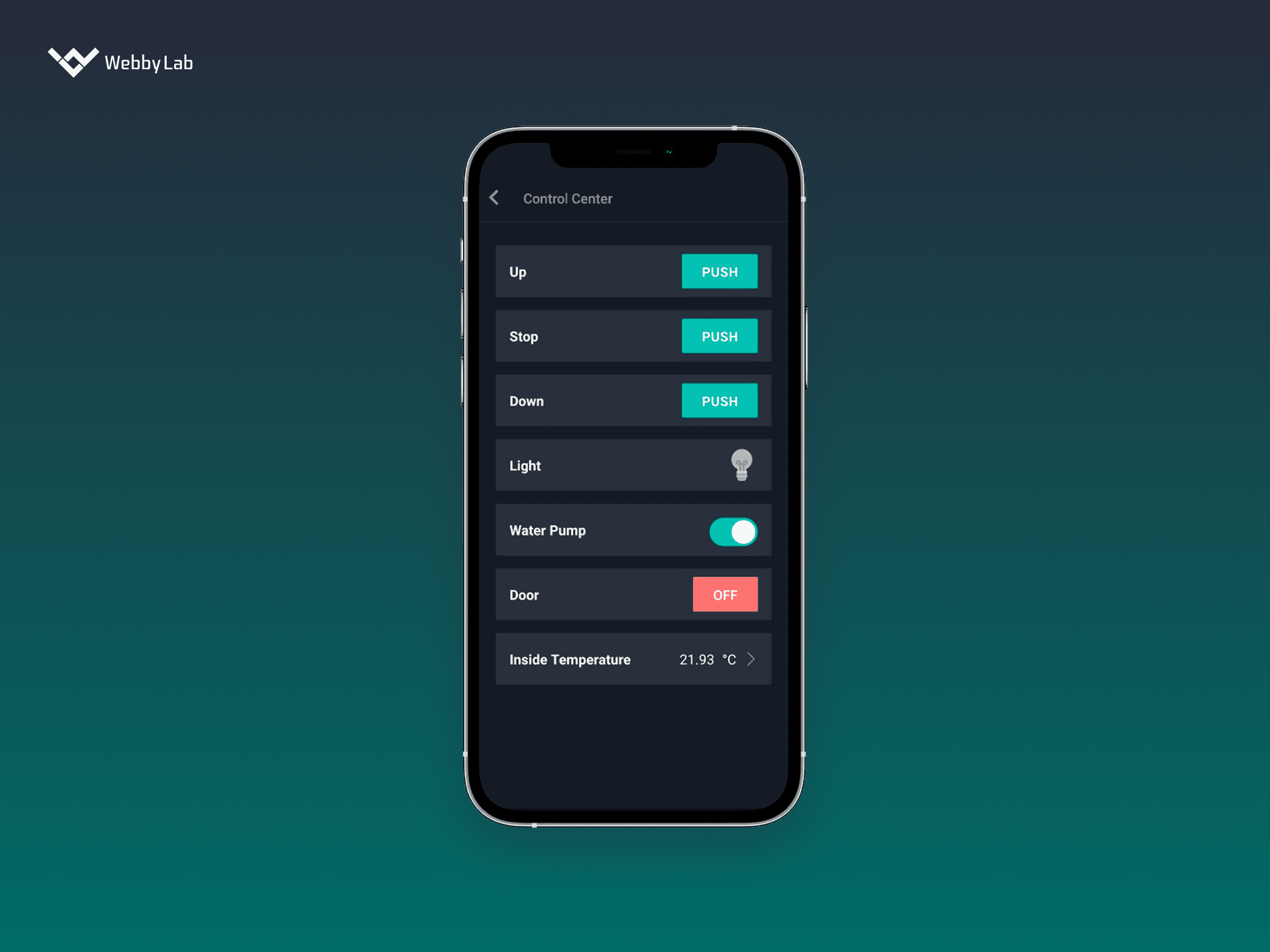 Adjusting the greenhouse settings through a user mobile app.
2. IoT-Based Weather Service
One of the best Internet of Things business ideas includes weather service. It involves using various IoT sensors for measuring temperature, humidity, and other climate conditions for real-time weather forecasting
3. IoT-Powered Automated Home System
This idea is not new but highly relevant. As we move to the smart home era, where all household appliances and gadgets connect, creating a similar project is profitable.
Home Automation with 2Smart Standalone
Our team worked on a smart home automation project based on our 2Smart Standalone platform. We deployed such systems in the houses of our managers and specialists, considering that the homes will be smart already at the construction stage. Thus, we installed sensors and proximity switchers and laid necessary communications at the beginning.
We placed a mini computer in each house and connected it to the 2Smart Standalone platform and IoT sensors and devices. The WebbyLab team configured the following scenarios:
Automatic boiler switching at the night rate

Automatic water circulation and heating for cost-effectiveness

Automatic heating control

Automatic pump switching

Automatic bathroom hoods activation

Automatic indoor and outdoor lighting switching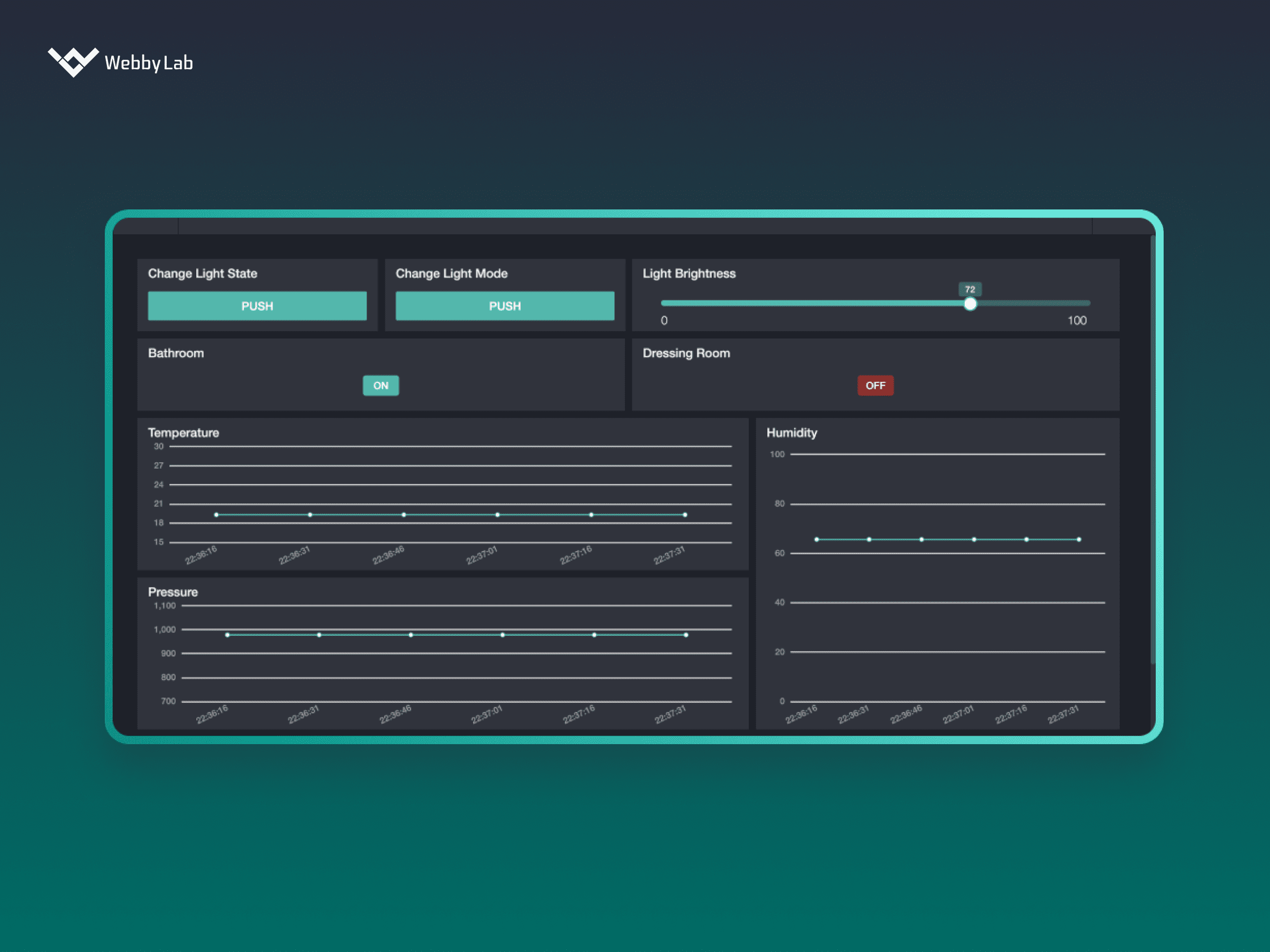 Configuring smart home parameters via the 2Smart Standalone automation platform.
The platform enables setting up any other scenarios and connecting various IoT devices and sensors through protocols. You can effortlessly fix this if the protocol is not supported by writing a bridge. Thus, 2Smart Standalone suits various projects beyond home automation, for example:
Anti-theft systems

Smart irrigation systems

Air pollution monitoring systems

Liquid level monitoring systems

And many more
4. IoT-Enabled Alarm Clock
You can create an IoT-powered alarm clock to perform more functions than just waking people up. With the Internet of Things, such a clock can connect with the associated mobile or web app. Thus, users may customize their schedules and other activities.
5. IoT-Based Air Quality Monitoring Systems
Other IoT innovative ideas include air quality monitoring. You can deploy sensors that measure ozone, carbon dioxide, sulfur dioxide, nitrous oxide, and other air components for better environmental control at your facility. As already stated, it's possible through our 2Smart Standalone platform.
6. IoT-Powered Parking System
This business idea is becoming more and more relevant due to the increase in cars and the need for parking spots. By implementing IoT in urban areas, parking issues can be solved. The technology will monitor available parking spaces in real-time, allowing drivers to find a suitable slot faster and easier.
7. IoT-Based Garage Door Automation
Other examples of using IoT include a smart garage door system. It sends instant alerts when the door opens or closes and allows for remote door control.
Propuskator Access Control and Management System by WebbyLab
Our project Propuskator allows for controlling gates, barrier drives, and electric door locks. After installing such a controller to manage a garage door, you can pair it with our 2Smart Cloud mobile application via Wi-Fi or GSM.
As a result, the user receives all the features of an IoT device based on our platform:
Remote control through a mobile app, phone call or messenger bots

Voice command control

Sharing features through a mobile app, web interface, or phone call

Integration with Siri and Google Home, the ability to control access using shortcuts on an iPhone

Integration with IFTTT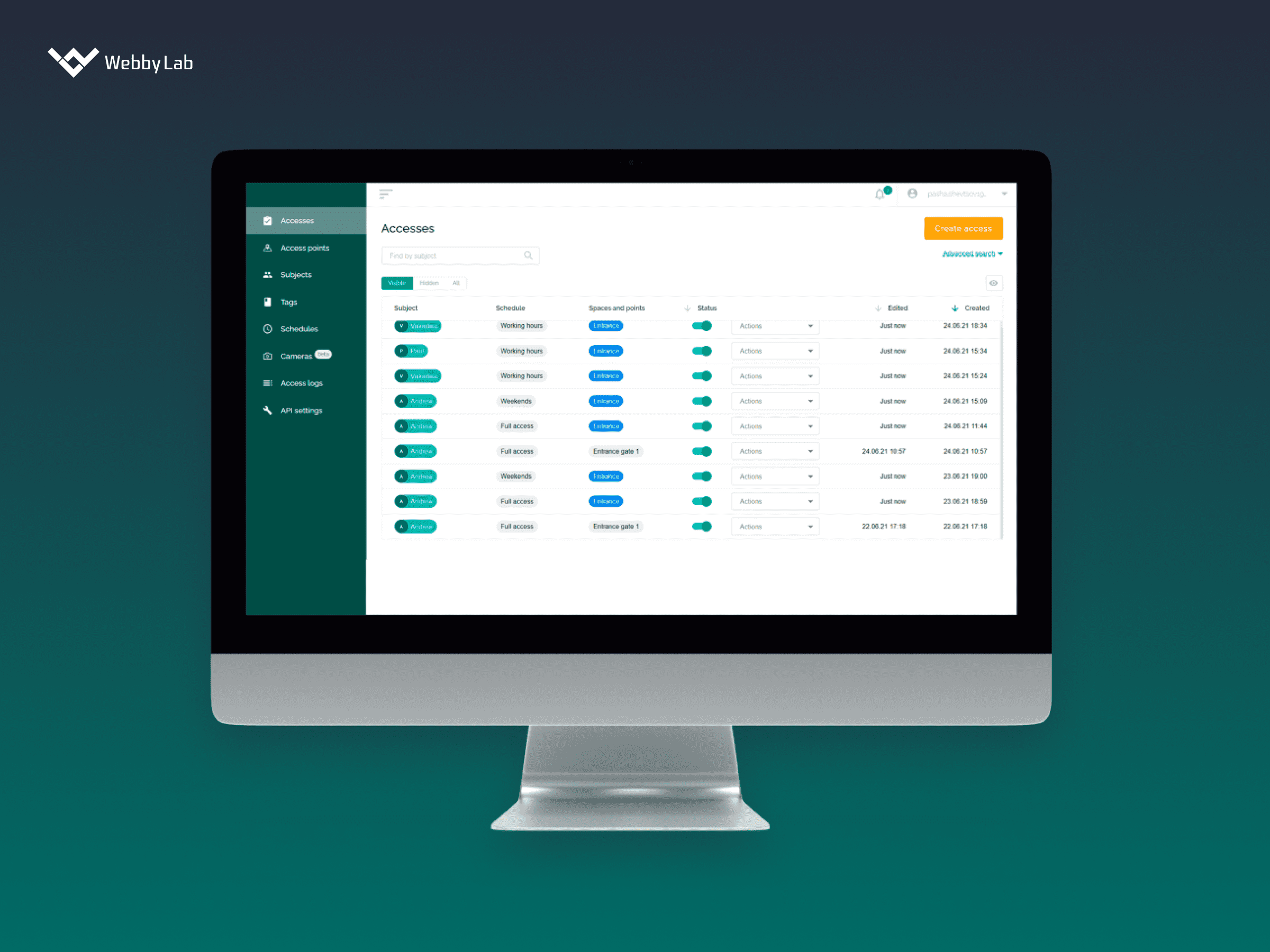 Propuskator access control through a web interface.
8. IoT-Powered Traffic Management
An IoT-based traffic management system will help track vehicles and plan the most efficient routes, unburdening the roadways. It will also assist in collecting data on the most blocked roads and finding ways to manage them better. This idea is relevant for city administrations, transportation, and logistics companies.
9. IoT-Enabled Gas or Water Leakage Detection System
The life-saving idea is to build a gas or water leak detection system using IoT. You can place sensors on pipes, connect them with an app, and the IoT devices will send instant alerts when they detect leakages.
10. Waste Control Using IoT
Smart cities or businesses can use the Internet of Things to manage waste. They can implement it by installing sensors on garbage cans, which track the rubbish amount and help with waste gathering.
11. IoT in Consumer Electronics
Businesses can improve their existing electrical products or create IoT-enabled devices. These may be various gadgets for smart homes and general use.
WOW Fire Lamp by WebbyLab
The WOW Fire Lamp is an Internet of Things device created by the WebbyLab team. It's a startup project, a LED lamp that imitates fire flames. This product can be managed remotely through a mobile app.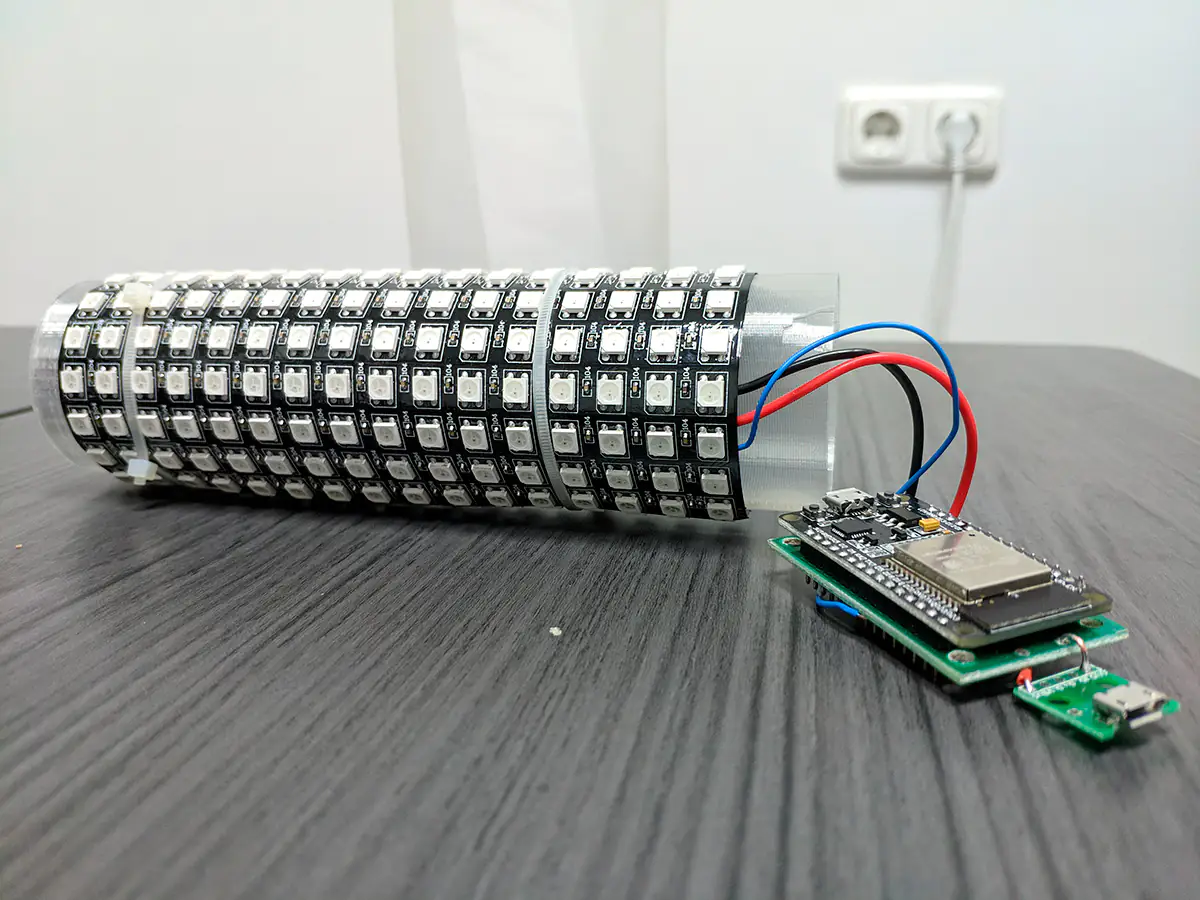 Assembling smart WOW Fire Lamp in WebbyLab office.
12. Street Lights Management Using IoT
One of the IoT based business ideas involves monitoring street lights using LDR and motion sensors to improve energy efficiency. LDRs will respond to the level of light on the street, and motion sensors will detect the movement of vehicles or pedestrians and automatically turn on the street lights.
13. IoT-Based Anti-Theft System
Creating an anti-theft system using IoT is another project you can tackle. You can place sensors on the door locks, gates, etc., to control access like in our project Propuskator and use motion detection devices on the property to ensure security.
14. IoT-Powered Liquid Level Monitoring
Factories and other industrial facilities can use the Internet of Things to monitor the liquid level remotely and prevent it from overflowing. They can place sensors on liquid tanks to measure their occupancy level.
15. IoT Robotic Night Patrol
Manufacturers can consider creating robots that'll provide home security. Companies can connect those robots with mobile or web apps for remote management via the Internet.
Commercial
Home Security Robot by WebbyLab
Our team has performed R&D for the home security robot project. We delivered a prototype that can provide basic security functions and remote video surveillance at the facility. Our experts concluded that this business idea is viable and that such devices can replace security guards at commercial facilities and residential buildings.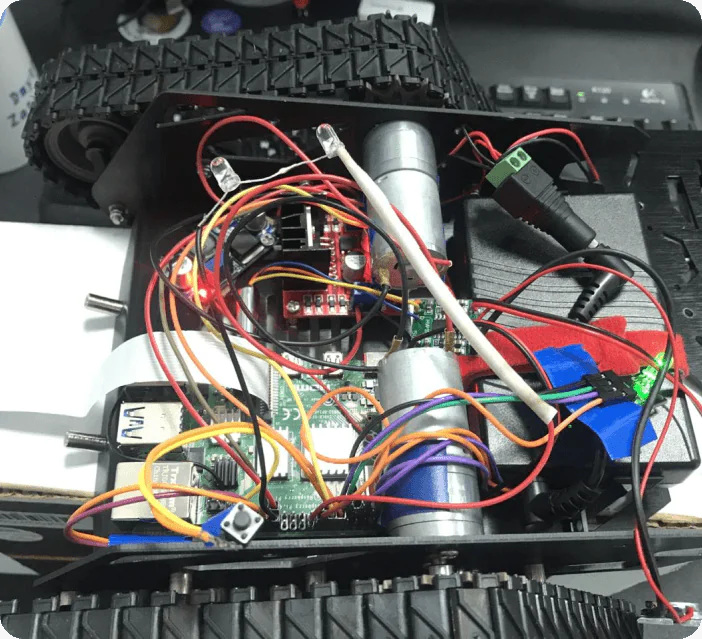 Assembling security robot prototype.
Prototype of a commercial security robot.
16. IoT-Based Health Monitoring System
Healthcare facilities can hop on the best IoT innovation ideas. One of those includes health monitoring through the Internet of Things. Such a project involves building an IoT app and connecting it with wearable medical devices to track patients' health indicators in real-time.
17. IoT-Powered Smart Energy System
The Internet of Things can optimize energy management in various industries. This technology enables the creation of a system for efficient energy management using light, temperature, and other sensors to collect real-time data for reduced energy use.
18. IoT-Based Flood Detection System
Other IoT ideas for business include creating a flood detection system. Such a system monitors various environmental parameters like temperature, humidity, water level, and weather forecasts. As a result, it helps predict and detect floods for timely response to them and damage minimization.
19. Smart Bus Stops Using IoT
This business idea is perfect for smart city development. City administrations can equip their bus stops with various IoT sensors, providing increased convenience to passengers and better efficiency. For instance, they can only turn on the lights when people are at the bus stop.
20. Automated Checkout Using IoT
Retail and commerce businesses can leverage IoT to implement automated checkouts at their stores or supermarkets. Such checkouts allow customers to scan the QR or barcodes of the products and proceed with their payment without a human medium.
Choose WebbyLab to Implement Your
IoT Startups Ideas
WebbyLab is an experienced IoT software development company with over a decade of expertise in this niche. We can implement all IoT business ideas mentioned today or help with your cutting-edge concept.
By starting cooperation with us, you can get a project of any complexity. Whether these are industrial IoT monitoring systems, energy management solutions, or smart home technologies  — our experts can tackle these dev tasks.
As seen in the examples of our projects like 2Smart Standalone, Propuskator, a smart greenhouse platform, and such IoT devices as home security robots and LED lamps, our team can carry out each stage of development smoothly and with outstanding results.
You can find more IoT solutions in our portfolio.
Start Your IoT Business Right Away
Elevate your entrepreneurship to a new level by leveraging the best Internet of Things startup ideas. The IoT is a significant driver of business success, helping with real-time data collection and analysis, device connectivity, and better productivity.
You can hop on the Internet of Things niche to increase your profits and competitiveness. If you want to implement any of today's business ideas or have yours, contact WebbyLab for further assistance. Our expert team will use its profound experience in IoT and the latest technologies to keep your project live.
FAQ
Which industries benefit from the Internet of Things?
Almost all industries can take advantage of the Internet of Things. But this technology is the most beneficial for the healthcare, agriculture, manufacturing, transportation, and finance sectors.
Which are the top IoT trends to watch out for?
The most prominent future IoT trends include connecting the Internet of Things with big data, machine learning, artificial intelligence, and blockchain. All these solutions aim for more efficient data collection and analysis, increased security, and smarter operations.
How do I start an IoT business?
First of all, you should research the market and come up with a unique IoT project concept. After that, you can contact a reliable IoT vendor like WebbyLab to develop your Internet of Things solution.
Is IoT a good business niche?
Generally, there are substantial IoT business opportunities. But your company's success mainly depends on a well-thought-out concept and proper implementation.
You may also like
What Is Zigbee Protocol in Wireless IoT Networks
Zigbee protocol stands out for its efficiency allowing developers to create affordable solutions for smart home devices integrated into a single network and other systems…
December 19, 2022
Kostiantyn Oliynyk