eCommerce software development company
We have ready-made solutions that can be integrated into the existing eСommerce platform
We have 10 years of experience building and integrating eСommerce ecosystem components
We have experience with eСommerce ecosystems for large and medium-sized businesses
Our goal is to provide clients with competitive services to maintain long-term business relationships
Range of our eCommerce solutions & services
B2B/B2C/Marketplace Platform Development
UX/UI Design
Platform Architecture design (HLD, LLD)
High-load architecture design (from 50k SKU)
Existing eCommerce Platform performance optimization (improving user journey, customization, A-B testing)
Custom services development (target group analysis, personalized marketing activities)
Integration with API, CRM, PIM, and ERP systems
Platform maintenance & support (preparing eCommerce for holiday traffic)
Custom eCommerce mobile app development
Contact us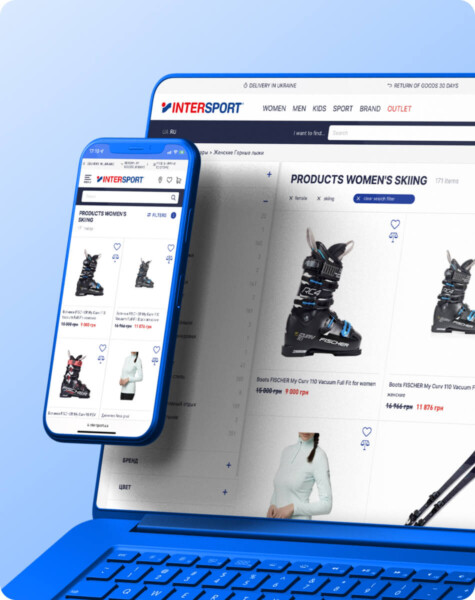 Accessing a wealth of customer data
When interacting with online stores, shoppers also give a wealth of demographic and behavior data available through Google Analytics to assist online businesses with optimizing the customer journey.
Getting market advantage
Due to the market coverage and ease of engagement with partner networks, integrating a B2B eСommerce platform into distribution chains provides businesses with a number of benefits over competitors.
Benefiting from custom-made solutions
Custom-made solutions enable you to turn any idea into a product. Likewise, custom eCommerce software gives your business complete ownership and control over the final product.
Providing better customer experience
The right eСommerce ecosystem can make your customers' experience more enjoyable and encourage repeat purchases
Our Development Tech Stack
Integration with SAP 4HANA
What is an e-commerce ecosystem: everything you need to know
Understanding the e-commerce ecosystem Businesses today are constantly challenged by changing conditions and consumer expectations. Fortunately, there is still a thorough way to transform the…
Monolith vs. Microservices: what's the right choice for your project?
The use of microservices architecture is already widespread among global companies. For instance, Amazon, Coca-Cola, and Netflix started out as monolithic apps but have evolved…